Search
Shopping at Totaltools.com.au is simple. Once you have found the item you wish to purchase click on "BUY NOW".
You can search using the name, product number, brand of the item you want to purchase or get more information about by using the search section on the top of the page.
Once you have found the item/s you want to purchase, you just go to the product page by clicking the link of the item and clicking "Add to Cart" on the product page.
If you want to check the stock level prior to adding to cart, you may put in your post code as shown below and it will state whether the item is in stock.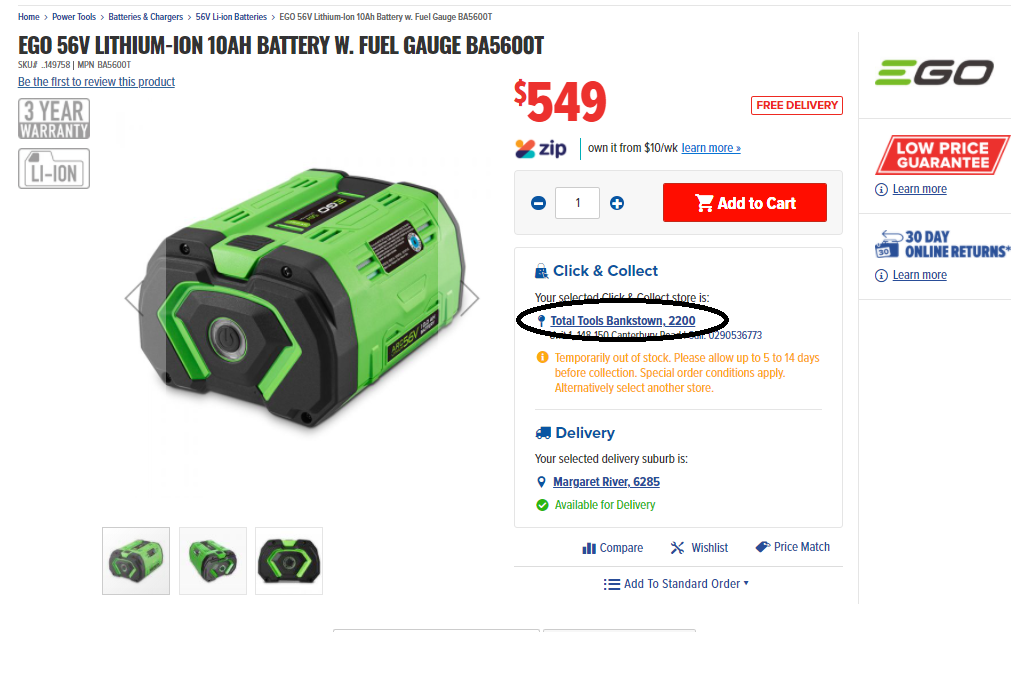 Please do note though that any representations made about stock availabilities are accurate to the last known stock level and are subject to change. For the latest accurate information about stock, please contact the store directly.
Checkout
Once you have added all items you wish to purchase into the cart, then you can proceed to Check Out by clicking the My Cart section on the top right of the page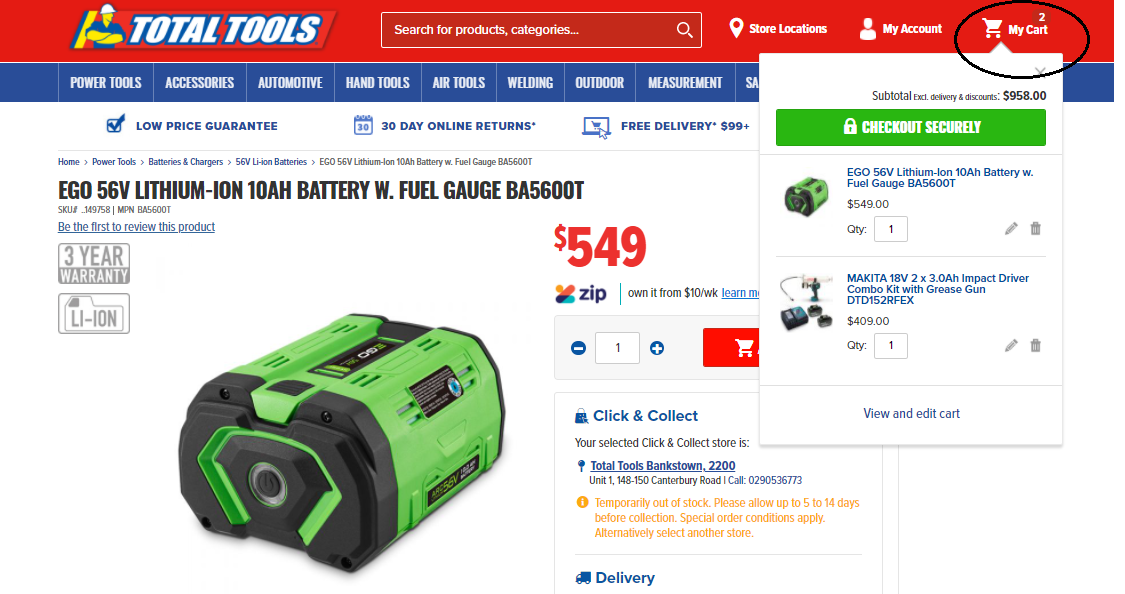 Click on Checkout Securely and you will be directed to the next page where you will need to choose between Delivery and Click & Collect.

Delivery or Click & Collect
If you choose delivery you will enter your postcode and the website will locate the store closest to you that has stock to ensure the best delivery rate and then calculate the delivery charge. The delivery charge will then appear in your basket / cart.
If you choose click & collect from store you will then need to enter your postcode. The site will calculate the stores closest to you that have stock and you will then need to select the store you wish to collect from.
You can log in if you have purchased before, checkout as a new member or use the express Paypal checkout if you wish to pay using your Paypal account.
Once you've selected between Click and Collect and Delivery, you will then be directed to the no. 2 step where you will have to fill out the required information such as your name, billing address, phone number.
Payment
Once completed, you will be directed to the no. 3 step for payment. You have multiple options to pay for the order
Gift Card
Credit Card
PayPal
Zippay
Openpay
Just select the mode of payment you wish to use and fill out the required information and click confirm. It will take few second until you receive a confirmation on the screen that the order was placed along with the online order number. An automated order confirmation will be sent to your email afterwards.